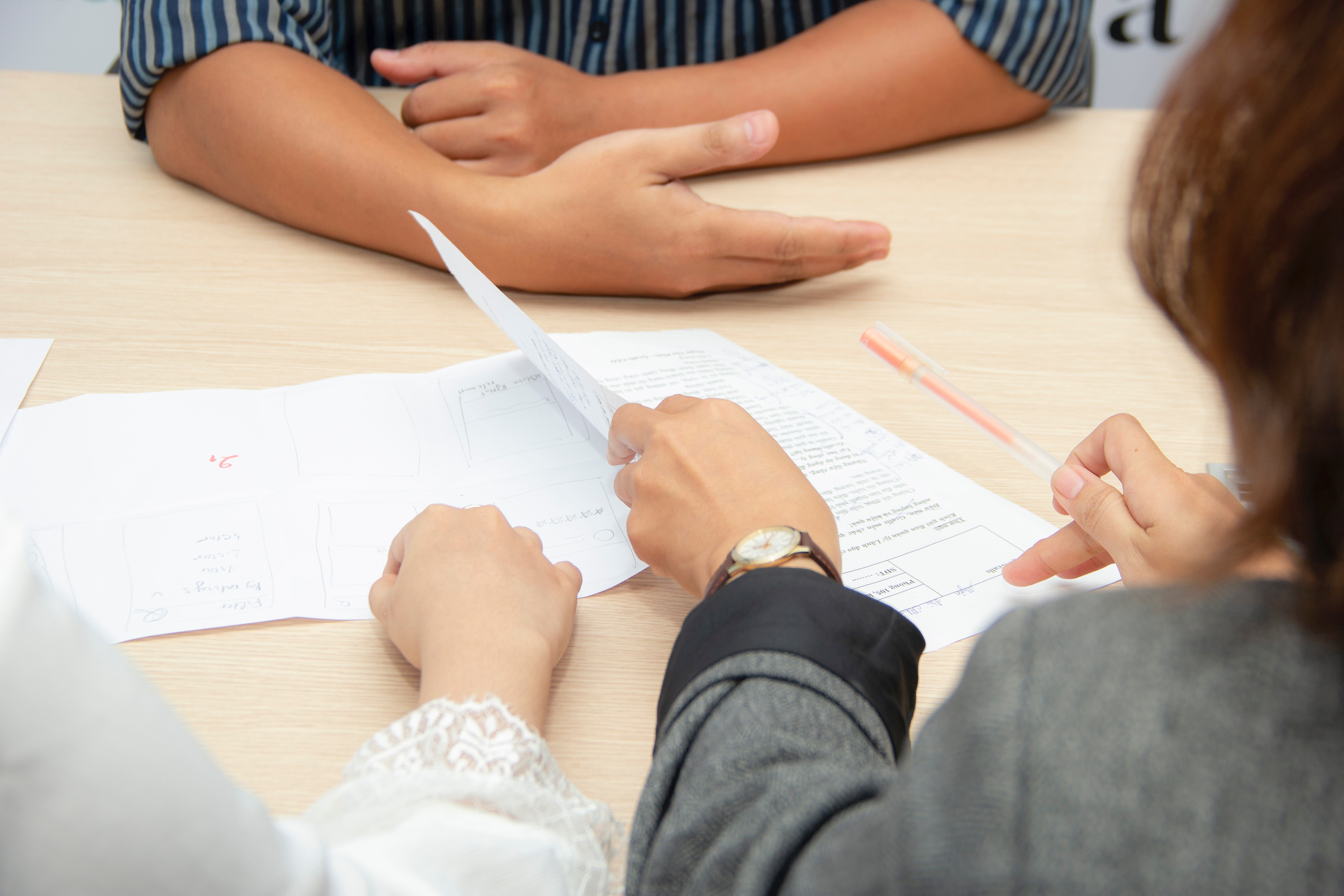 For senior executives looking to move up in their careers, an effective CV is a must, so we have shared a few CV templates and advice for senior leadership roles to help you secure your dream position.
An executive CV has the same parts as a regular CV combined with more detailed information on education, professional achievements, research projects, grants or fellowships obtained, licenses, and awards attained.
This kind of document goes beyond a regular resume by providing extra details that can demonstrate the individual's expertise and potential value to the organisation and business goals.
While a more junior candidate's CV will probably share detail on day-to-day tasks and responsibilities, a senior-level CV should highlight more specific achievements in their scope of work, e.g. number of locations managed, project value, P&L value, cost savings achieved etc.
Specialist recruiters know what information is most relevant when considering potential top-level candidates. Executive CVs are an ideal way to showcase this important information to employers since they provide insights into each applicant's successes throughout his or her career.
To shape this content into a strong CV, be sure to back up each point with detail where possible — link to any articles you have written online or provide metrics from successful campaigns executed at previous roles. Doing so will help employers and recruiters recognise what makes you stand out.
We understand that as you progress in your career it can be hard to know what is worth including in your CV and what should be filtered out. For this reason, we have shared some tips below on how to write an executive CV.
You can also download our free templates here:
Download CV templates
Structure and organisation
It's important that your CV is well-structured and effective, allowing it to stand out from the crowd. Microsoft Word is normally a popular choice for formatting with common fonts such as Arial, Verdana or Helvetica being preferable.
It is also important to make sure that the structure and formatting of any CV is kept plain, consistent, and easy to read. All fonts used should be the same throughout and at a reasonable size so the page isn't overloaded with large writing.
It is also essential to make sure your use of spelling, grammar, and punctuation are perfect. Reading over your CV lots of times will help to prevent mistakes from going unnoticed.
Contact information and relevant websites
Having your contact information clear and easily accessible at the top of your CV is a necessity. By adding your contact details to the page header or top left corner, you ensure that anyone reading the CV can quickly find what they need.
Be sure to include your full name, email address, phone number, and city or region of residence on separate lines. There is no need to include your full address!
If you are a contractor or consultant with your own registered business, it would be a good idea to include a link to your site here. If applicable, you could also include links to a digital portfolio or other professional websites such as a LinkedIn profile, personal website etc.
This is a straightforward way to show off your experience, case studies, and testimonials beyond what is listed on the CV itself.
When inserting a link to a URL, make sure to customise the text so you are not including the entire hyperlink. This saves space and makes the CV look clean and tidy. You can find instructions on how to do this here.
Including these sites adds another layer of insight into who you are and allows employers to get a better idea of how well-suited you may be for the role.
Education and professional qualifications
Seeing certifications, awards, professional licenses, or diplomas at the top of a CV helps employers and recruiters recognise that you have met the requirements for certain roles within the first few seconds of looking at your document.
Make sure all relevant qualifications are listed in full. Include professional qualifications and training courses you have completed, either in previous roles or in your own time. It would also be worth noting the systems and coding languages you are proficient in.
In addition, highlighting accomplishments can help you stand out from other applicants. This could include referencing awards won or professional memberships achieved.
It is always worth including activities you have done that show other valuable qualities; these could be things such as voluntary experience, internships, or language skills.
Professional Summary
A professional summary is a chance to highlight why you would be a benefit to an organisation, and provides the opportunity to set your expectations too.
Make sure to emphasise your skills, areas of expertise, and relate them back to what is asked for in the job description.
Example:
"I am an experienced professional with over 10 years of experience in the technology industry and a strong background in software engineering, project management, and business process improvement. During this time I have successfully implemented innovative solutions to increase efficiency and generate cost savings of over £1,500,000 for multiple organisations. My versatility enables me to take on new challenges and excel in varied roles.
Moreover, I am an expert at leading teams of developers, troubleshooting complex problems, and delivering projects on time and within budget. My excellent interpersonal skills make it easy for me to quickly build relationships with stakeholders across departments. I also have proven analytical skills that allow me to manage and present large amounts of data efficiently while maintaining accuracy. I would appreciate the opportunity to bring my talents to your organization and help you reach your business objectives."
Career history
Having an up-to-date and relevant work history attached to a CV is one of the best ways to give employers an impressive and accurate first impression.
It is important not to overwhelm potential employers with too much information and to instead focus on only the most important work experience.
This can be achieved by including just the relevant positions on the front page under a section entitled "Relevant Work History" as well as attaching a brief attachment page with all necessary background info about your work history.
Alternatively, outlining only the last 15 years of experience in a few sentences and then putting any additional details in an attachment will give employers clear insight into your professional background while keeping it concise.
Overall, when it comes to making sure that an employer's first impression of you should be positive and straightforward, investing time in condensing and making sure that only relevant information is included is essential.
Quantify your achievements!
Quantifying your achievements on an executive resume provides a powerful and impressive way to get your foot in the door for senior-level positions. Being able to provide numbers, statistics, and tangible results when describing accomplishments demonstrates how valuable you can be to an organization.
For instance, if you were able to eliminate wasteful spending by implementing cost-saving measures, state the approximate annual savings amount generated by your initiative.
Taking it one step further, specific details such as how many projects you handled or the size of teams you were responsible for can add additional context to illustrate impact.
For example, instead of just saying that "I ran two successful projects", explain that "I successfully managed the implementation of two new systems with combined team sizes of 50 personnel". This will give hiring managers greater insight into your capabilities.
By providing quantitative information on your achievements, you demonstrate that you are a results-driven leader with the ability to make significant contributions to any given organization.
Check list:
If you have applied to multiple roles with with limited success, check your CV for the following:
Have you communicated your unique value? This can include accomplishments or experiences that have helped guide you to where you're at now.
Have you shared quantifiable results? Make sure that your experience is result-oriented and demonstrates your ability to get things done, rather than simply listing tasks you have completed. Share the positive outcomes: cost savings/profits, project successes, time savings etc.
Are the skills you're highlighting at a senior level? E.g. leading teams (what was the team size?) decision making abilities (where were you in the organisation structure, did you present to the board of directors?).
By following these steps, recruiters will notice the stronger points of your profile and will take note of it when considering applicants for interviews.
Top tips:
Keep the length of your CV to no more than two pages so prospective employers can quickly scan through the key details without getting overwhelmed with information.
Leave out unnecessary personal details such as age, religion, marital status, and gender – employers are unable to consider these elements in their judgement anyway.
Start sentences with verbs so employers instantly understand what qualities you bring to the table. Additionally, be sure to tailor each section specifically for every job application you make.
Use clear formatting guidelines throughout your CV so it's easy-to-read for any recruiter at first glance.
Most employers prefer CVs that are written in the first person.
Highlight key skills that match those specified in the job description – this will strengthen your candidacy if you've got relevant transferable expertise.
List publications or certifications obtained over the course of your working life where applicable



Care to share?